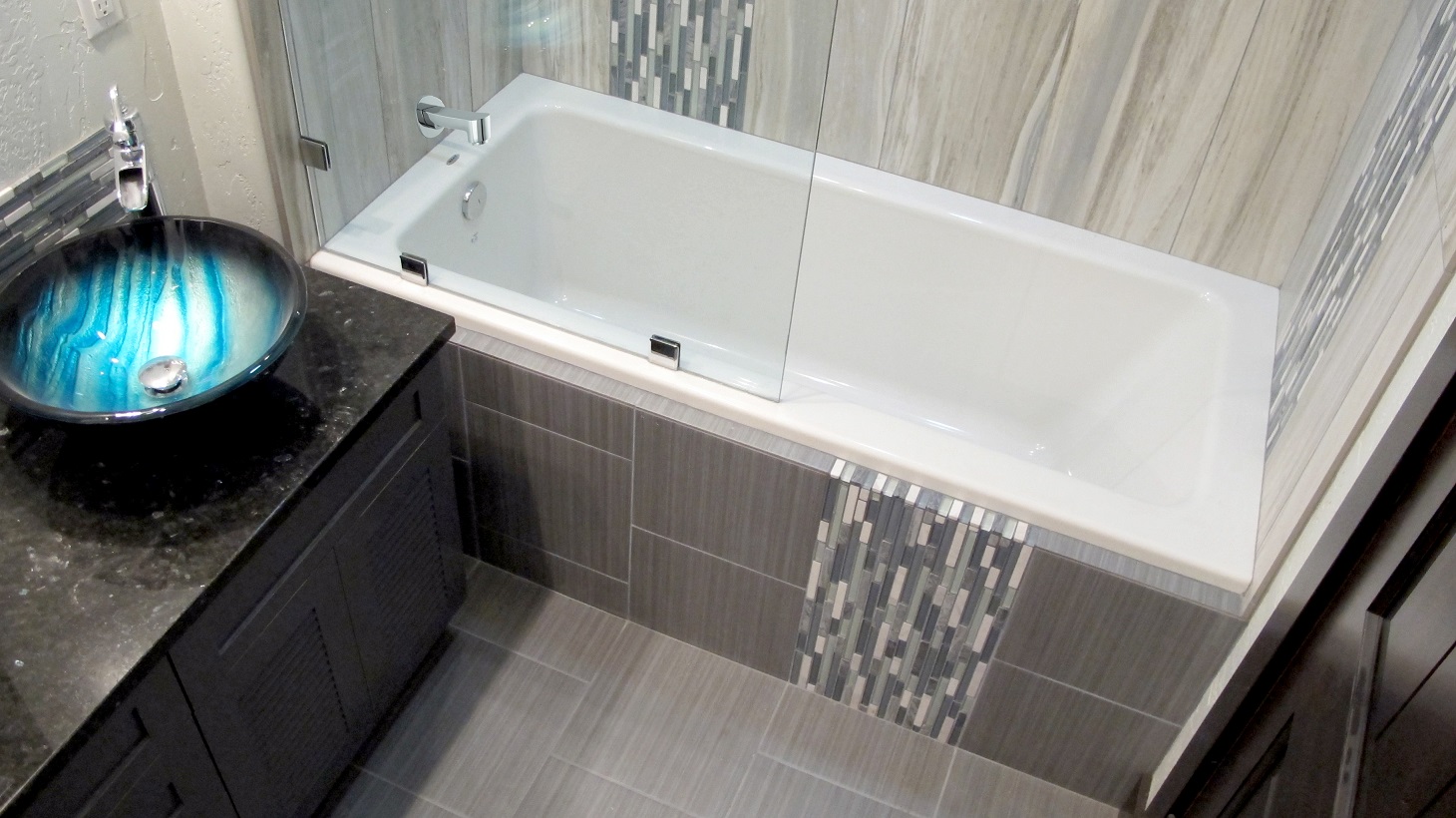 The finishes at Blue Lake Lodge are nothing but striking.  From the strong contrasting colors to the rustic serenity of earth tones to rich creams and golds this property is stunning, cohesively thought out and dramatically different.  The first guest bathroom combines contemporary urban styling with bright vibrant colors of aqua, blue and grey.  Porcelain tile is set on the walls in a vertical staggered pattern and repeated in a contrasting tile on the floors.  We combined New Reeds by Thompson Tile on the floors in color – Grey with S'tile's Flow 12×24 field tile on the walls in color – Sky.  A blend of glass mosaics was randomly placed in a vertical pattern.  Vessel sinks float on top of the vanity in a bright iridescent aqua blue which pops on a darker contrasting granite countertop.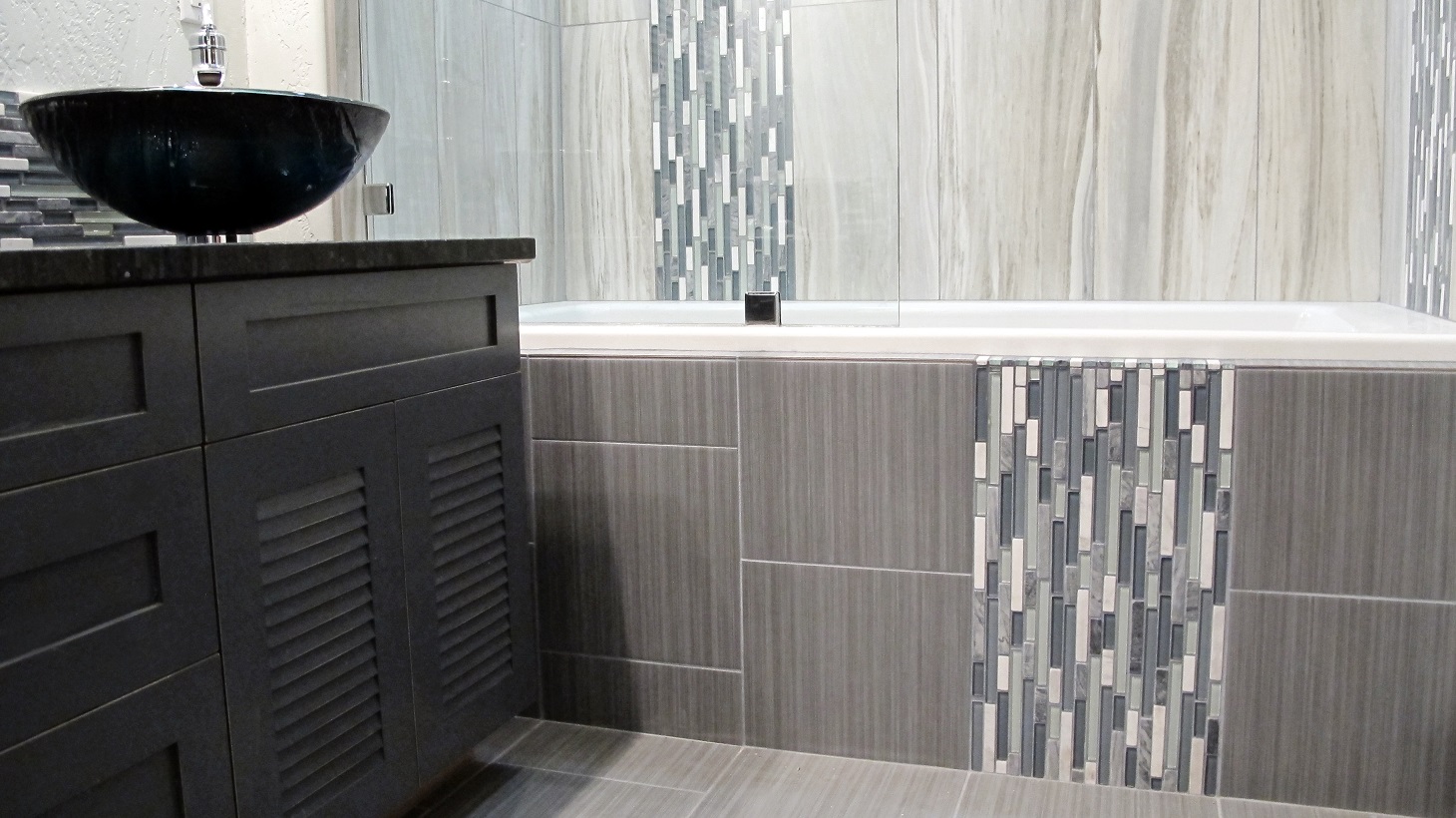 Located near an exercise room, an indoor outdoor shower concept is designed with Geology 12×24 Soil tile by Thompson Tile & Stone.  It has the characteristics of slate but with no routine maintenance. This porcelain tile will last for years and displays a gorgeous visual texture and random variance from piece to piece.  Rustic colors with contemporary lines gives this wall stunning interest while an added linear slate glass mosaic helps tie the whole thing together.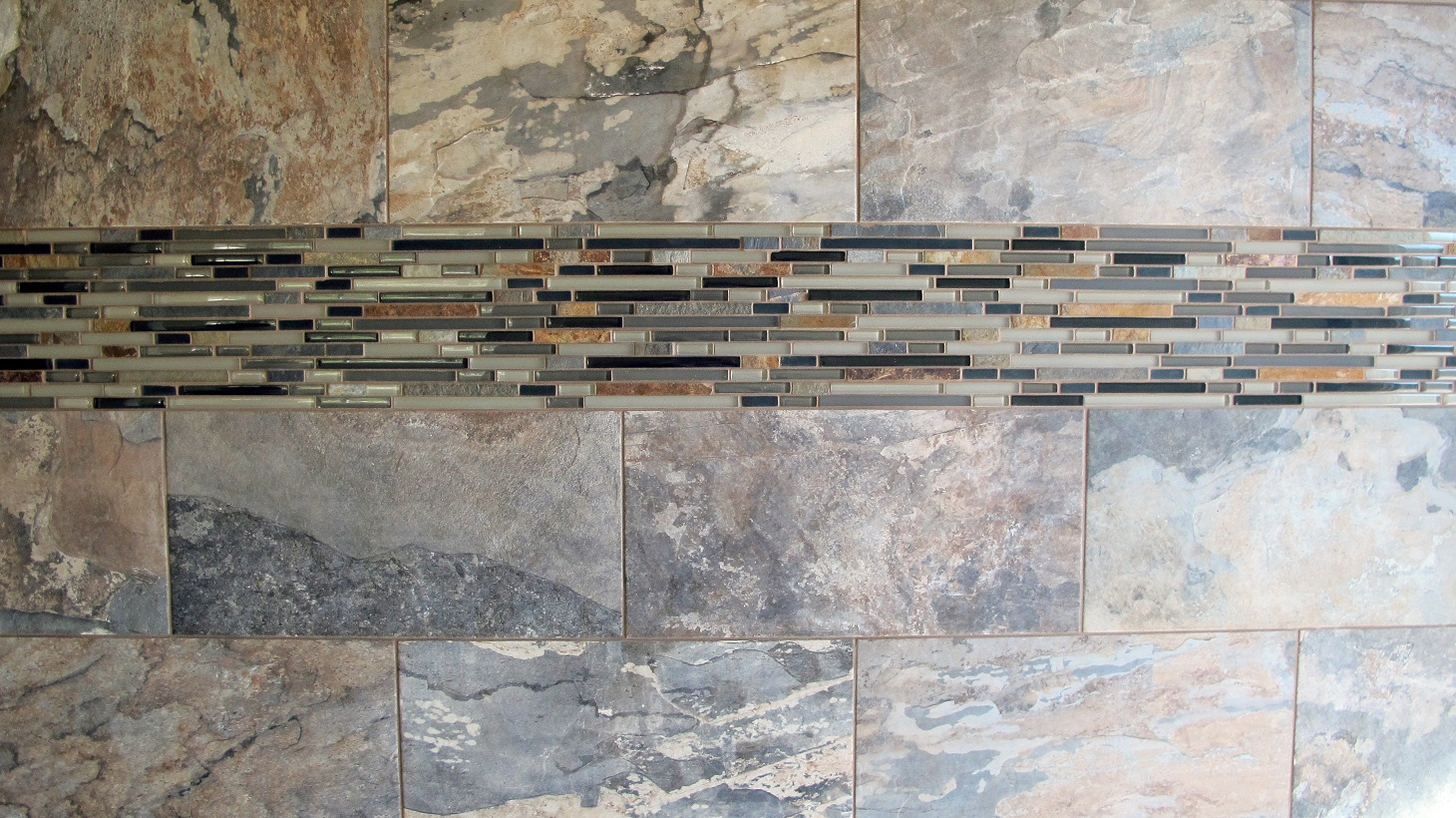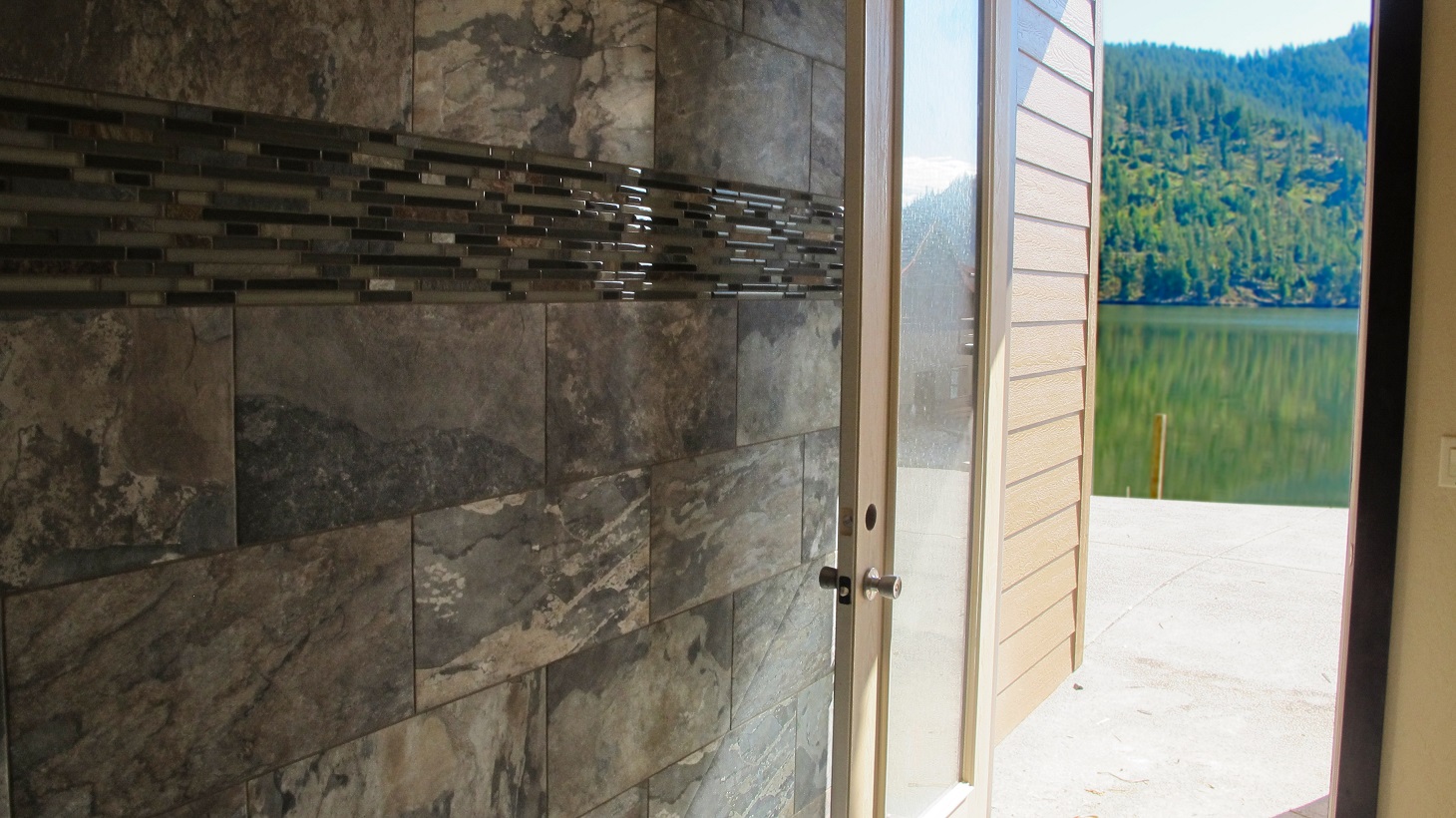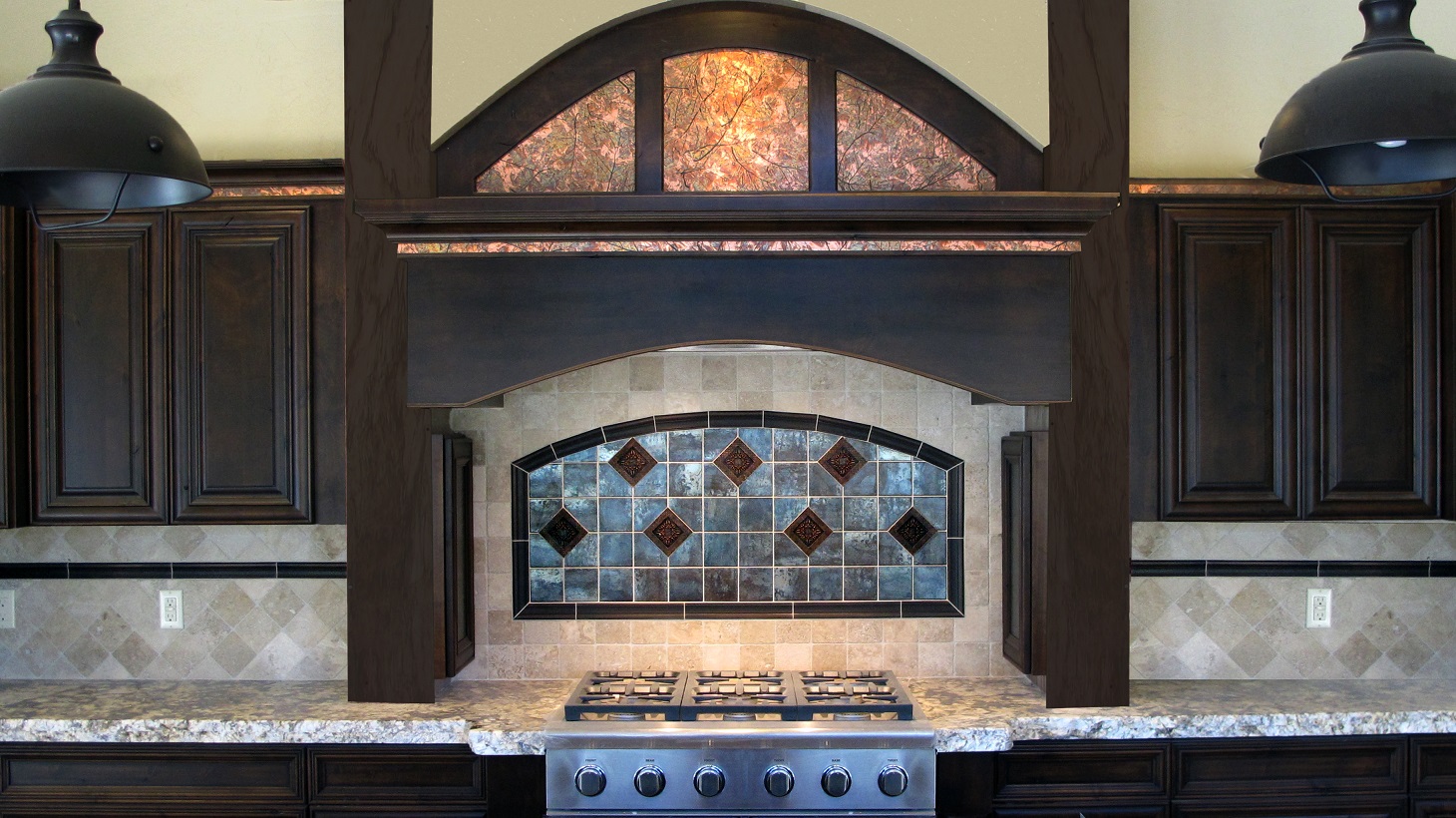 Near an open concept casual dining area and just adjacent to the massive great room, a beautifully designed rustic kitchen awaits. Custom cabinets, thick granite countertops, vino cream travertine backsplash by Emser Tile is adorned with a metallic mural of Antares Marrone by Statements.  Framed by Questech metal cove ogee in Oil Rubbed Bronze, this gorgeous state of the art kitchen has you feeling like royalty.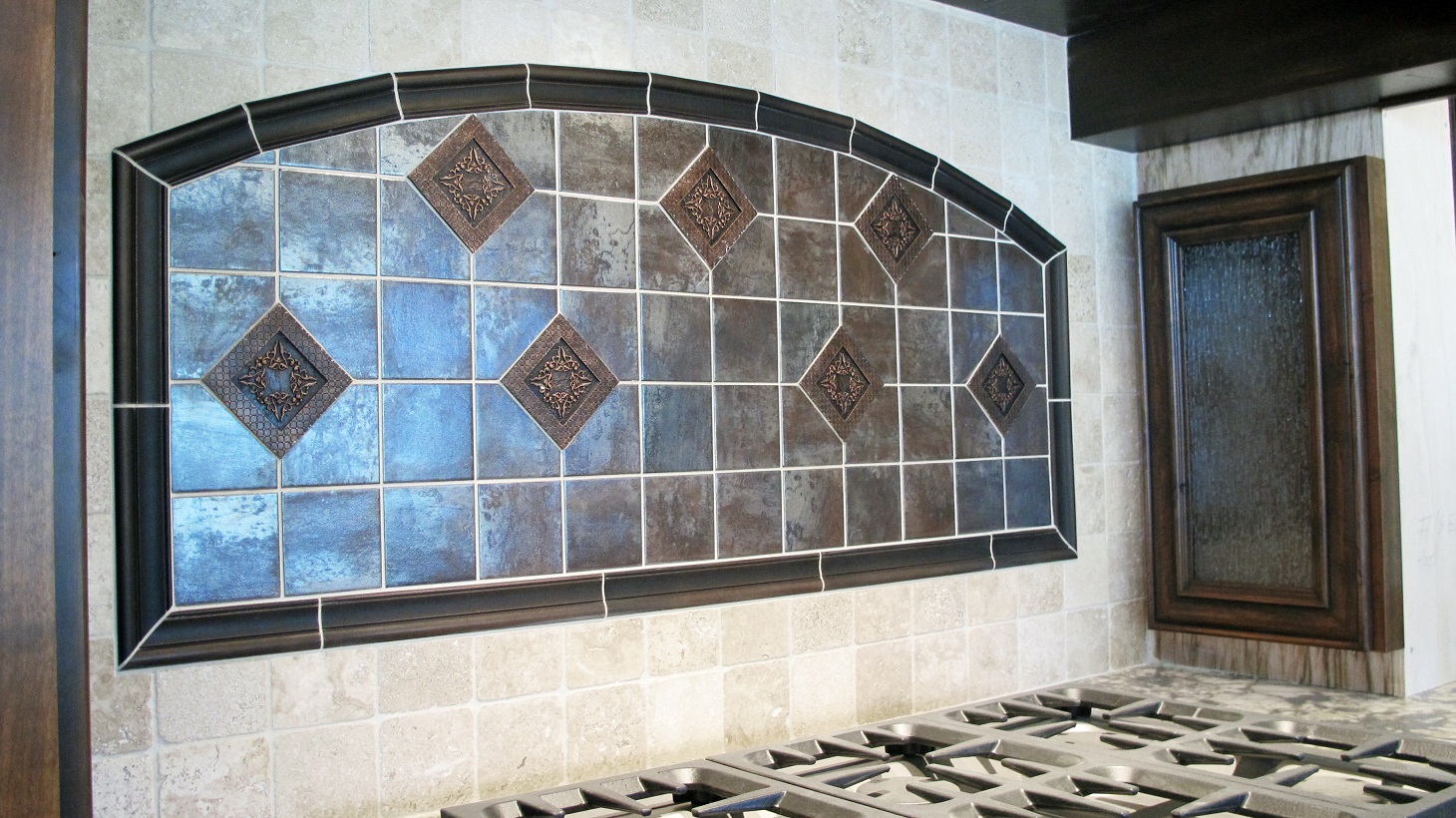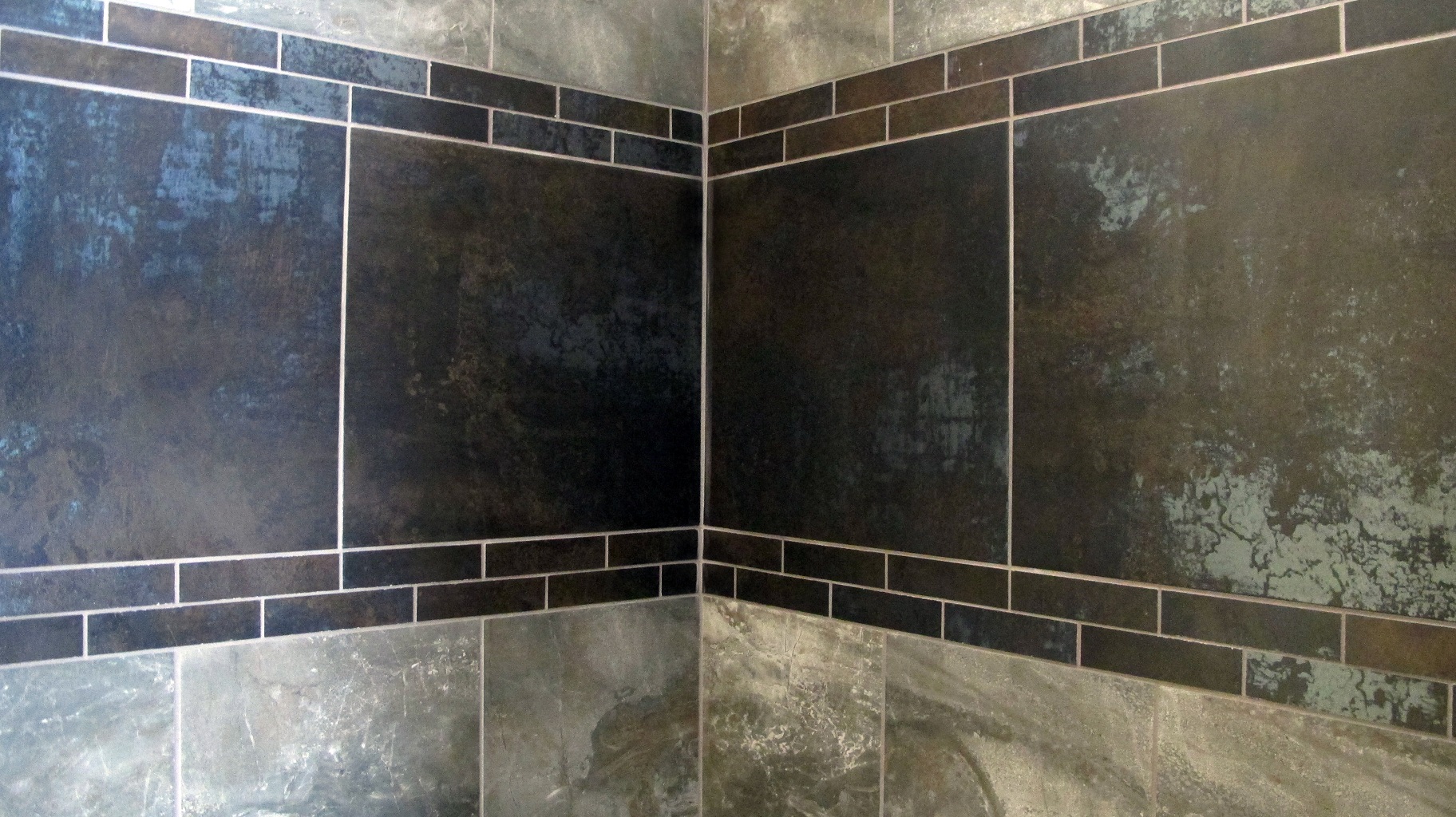 Shower walls designed with a rustic contemporary look incorporating American Olean – Danya Basin tile and Statements – Antares metallic porcelain in color, Nero.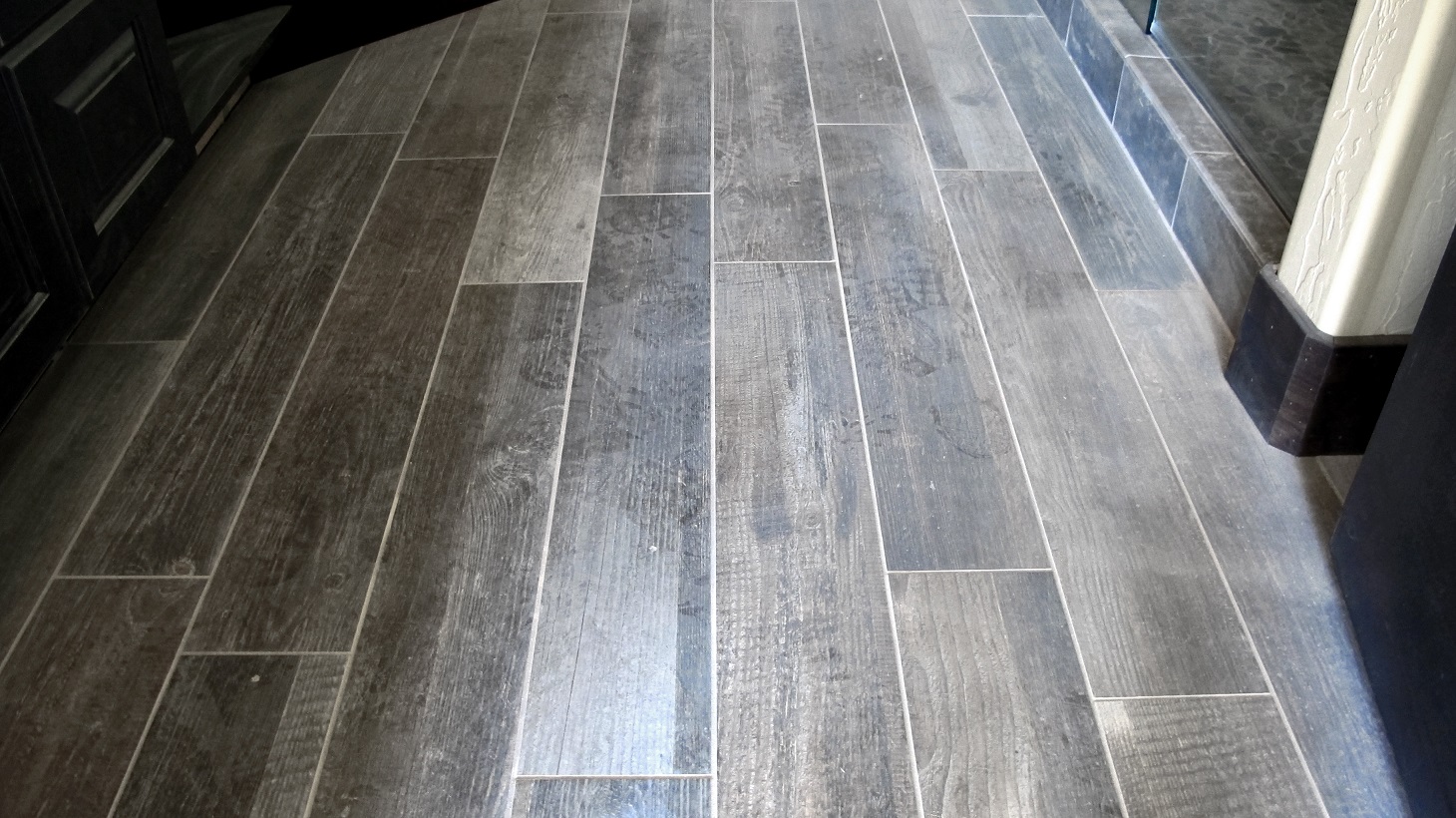 Bathroom tile floor in Oregon Tile & Marble's Cottage wood.  This 6×36 tile wood plank in color, Ruggine, brings a reclaimed look in cool grey and brown tones.
The large master bathroom beautifully adorned in Durango honed & filled travertine focuses on warm beige and subtle hints of gold.  Travertine Aspen Dusk 3×3 mosaic frames the shower seat and covers the pan floor while slab granite tops finish the horizontal  surfaces.  A solid sheet of glass separate the massive walk in shower with the rest of the master bathroom leaving the partition transparent.  A classic border of micro mosaic marble by Emser span the perimeter of  the space.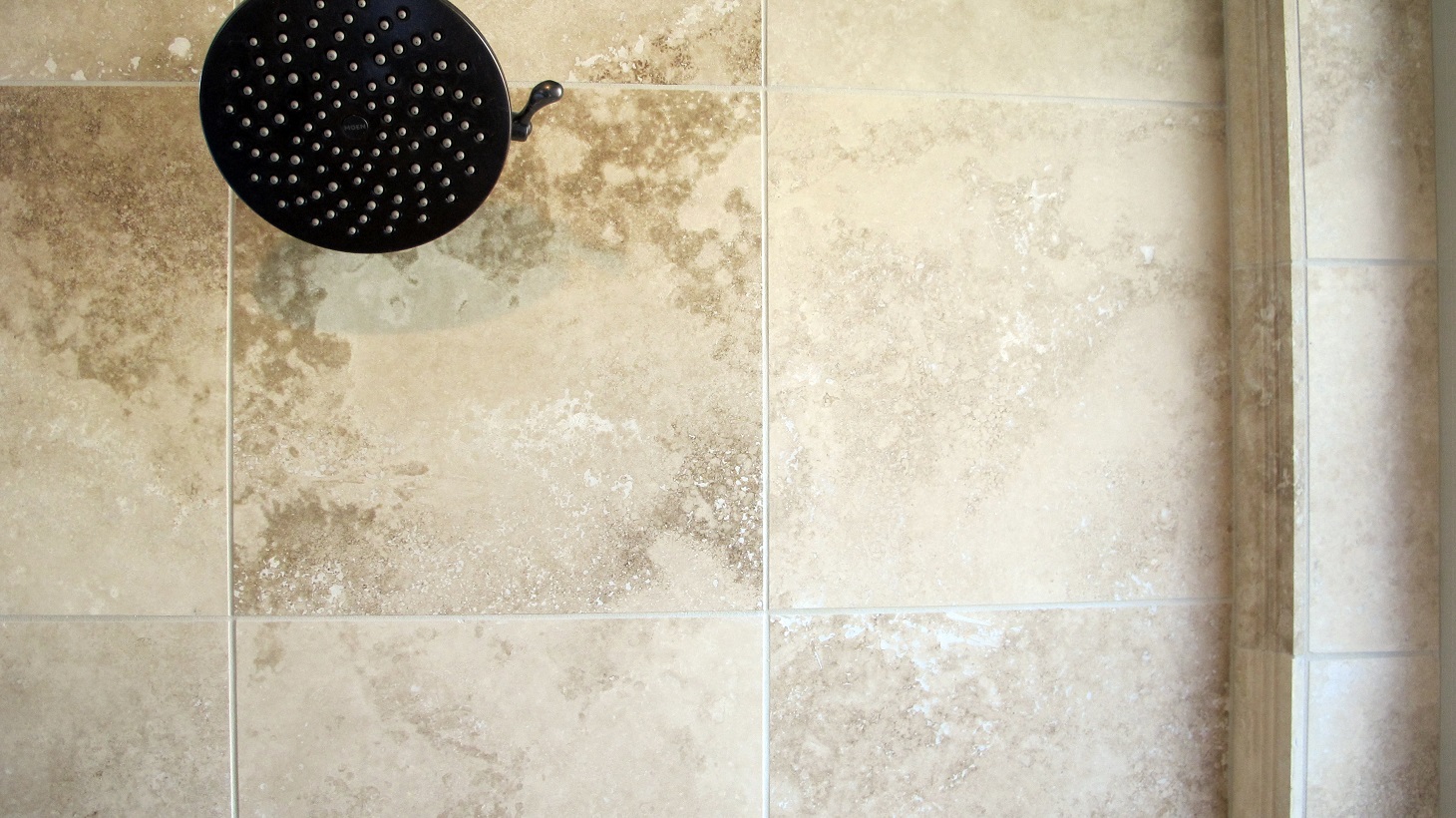 Master bathroom shower features 16×16 natural Durango travertine in a honed & filled finished. Paired with Oil rubbed bronze fixtures.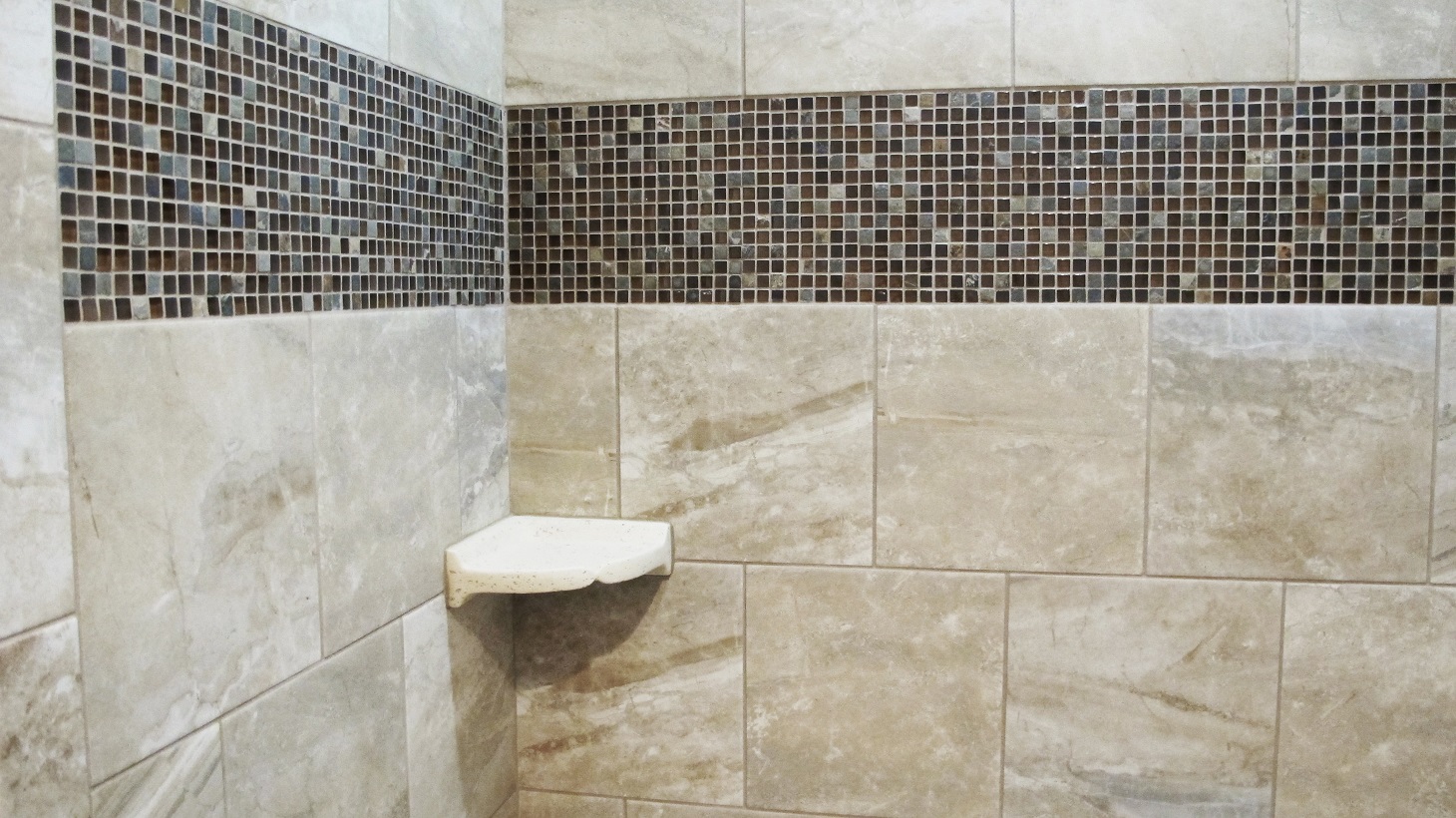 Another guest bathroom's shower walls are set using American Olean Danya 12×12 in color, Cove in a square stagger pattern.  Above, Oregon Tile & Marble's Arizona Square glass mosaic in Mesa brings a punch of color and gives this bathroom a warm, rustic variance.