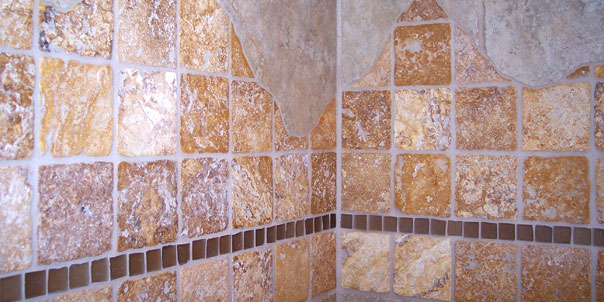 Stone
From exotic limestone to rustic slate, we have tons of variety and are able to meet anyone's style and budget. Whether you like the irregularity in tumbled stone or the formality of polished marble, you'll find it here.
Tumbled
Tumbled stone has very little man-made adjustments. It is taken from the earth and cut to size leaving the stone with rough edges, dents, holes and scratches. It's ideal for vertical surfaces where dust doesn't settle. Natural stone is a product of Mother Earth and is expected to have high shade variation and color differences from one piece to the next.
Polished
Stone in a polished state takes on a gorgeous finish. This is achieved by grinding the surface of stone with finer abrasive grits until the crystal facets on the surface are perfectly flat without the use of waxes or chemicals. The stone's porous nature remains unchanged but the absorption of water is slowed down significantly making clean up simple.
Sealants
An impregnator sealer is one that penetrates below the surface. Impregnators keep contaminants out, but do not stop the interior moisture from escaping. A hydrophobic sealer repels only water based chemicals but an oleophobic repels water and oil based chemicals. A topical sealer is more economical but is only a top coat. This means reapplying in the future.
Northwest Tile & Floors
3900 N Schreiber Way
Coeur d'Alene, Idaho 83815
Visit Our Showroom Today